Directions for finding this Pickaway County, Ohio Cemetery:

Drive South from Columbus on I-71 to 270 S to Rt. 23. Take Rt. 23 toward Circleville. Drive through Circleville and turn left onto Tarlton Rd. Turn right (South) on SR 56. Turn right on Zane Trail Rd (T-44). In about .7 mile, the cemetery will appear on the right side of the road. It's surrounded by a farmer's fields and there is no sign; but, it is mowed and visible from the road.

Buried there are James E. Rice (#45) and Jane McLaughlin (#46) (GPS 39° 32.606' N, 82° 51.867' W) and some of their children (Anthony Rice's #23 siblings) and grandchildren.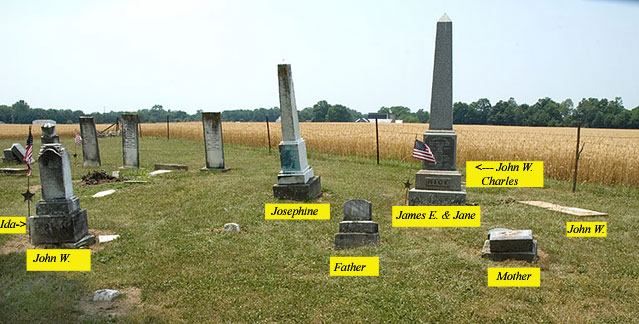 Below are the tombstone of James E. Rice and his wife (Jane) and a 1812 medallion, thought to be that of James. It appears that at some time after the original stones labeled "Father" and "Mother" were placed for James E. and his wife, this large monument was erected.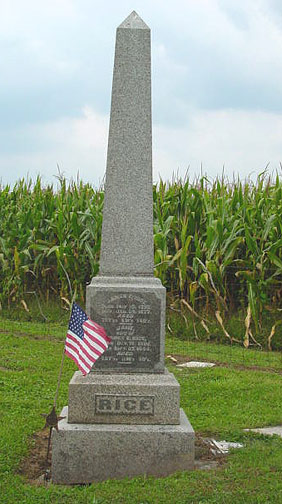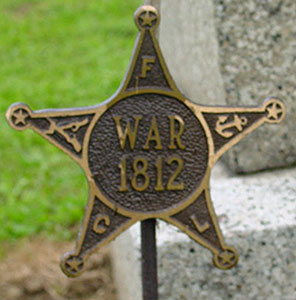 JAMES E. RICE
BORN MAY 15 1797
DIED JAN. 29, 1877
AGED
79 Y'RS 5 M'S 14 D'S
_____
JANE
WIFE OF
JAMES E. RICE
BORN OCT. 19, 1801
DIED SEPT 27, 1844
AGED
42Y'RS 11 M'S 8 D'S
On the side of the large tombstone is the engraving shown below for two of their young sons. Another older and broken stone for John W. lays nearby.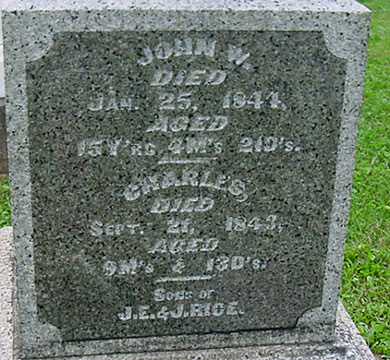 JOHN W
DIED
JAN. 25, 1844
AGED
15Y'rs 4 M's 21 D's
_____
CHARLES
DIED
SEPT. 21, 1843
AGED
9M's & 13D's
Sons of
J. E.& J. Rice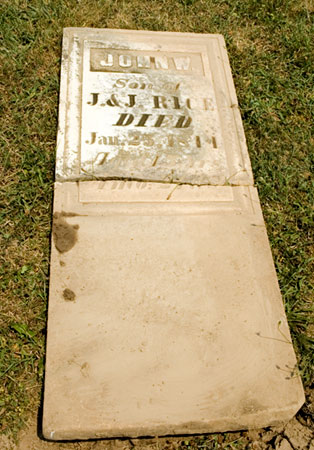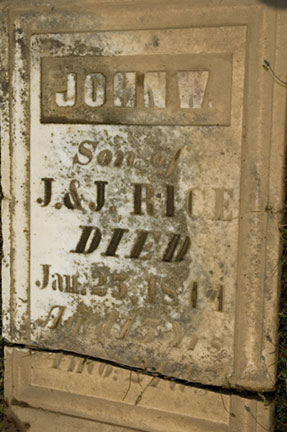 JOHN W.
Son of
J & J RICE
DIED
Jan. 25, 1844
Aged 15 Yrs.
4 Mo: 21 D's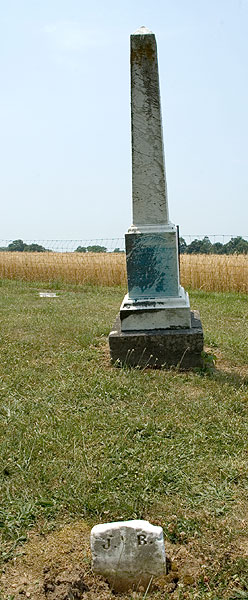 JOSEPHINE
Dau of
JAMES & NANCY RICE
BORN
Sept 30 1855
DIED
Apr. 26, 1877
AGED
21 y's 6m's & 26 d's
There are 4 more lines below the above inscription, but they are not legible. Blue chalk was applied to the stone to aid in reading its inscription.
Josephine was the daughter of one of Anthony Rice's brothers (ie: she was Anthony's niece and James E.'s and Jane's granddaughter.)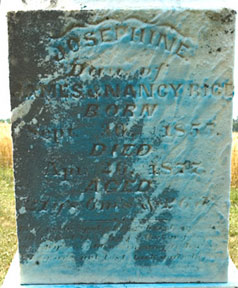 Below is John W. Rice's Tombstone and Civil War medallion. GPS 39° 32.604, 82° 51.866 W. This John W. was probably a nephew of Anthony and a grandson of James E. Rice.
JOHN W. RICE
Died
MAY 11, 1884
AGED
37 Y's. 13 d's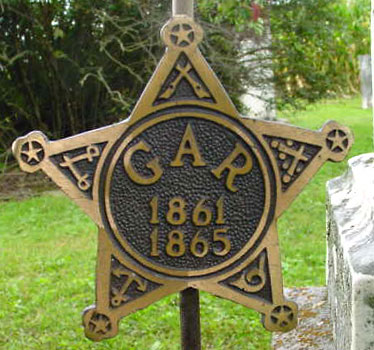 On the side of John's stone is the engraving for Ida, his wife. Both John's and Ida's footstones are present at the site.
IDA E. RICE
Died
NOV 7. 1877.
AGED
2 Y 6 M ? D
---
Contact person for this website is Susan Snyder: susanleachsnyder@gmail.com