Directions for finding this Ross County Cemetery (Colerain Township) in Adelphi, Ohio:

Drive South from Columbus on I-71 to 270 S to Rt. 23. Take Rt. 23 toward Circleville. Turn left at Tarlton Road. Proceed to Rt. 56 and turn right. Just before reaching Laurelville, turn right onto Rt. 180. The cemetery is in Adelphi. Turn left onto Main Street. Turn left onto High Street. The cemetery is on the top of the hill on the right.
The Mettler family section is Section 2, Grav. 93. After entering the cemetery, climb the left side of the hill and locate a large Mettler stone labeled Andrew & Mary. Look to the right of Andrew's and Mary's stone for Herbie Mettler, Claud Mettler, Edith Mettler, Hannah Mashon Mettler #44, and Francis Mettler #43 . Look just down hill from that area to find the broken stone of Ella Mettler Hunter.
GPS 39° 28.024' N, 82° 44.617' W.
****
After discovering that Francis Mettler was a war veteran and buried at Belleview Cemetery, Susan Snyder #2 and her husband decided to visit the gravesite on 24 June 2006.
At the top of a hill, Susan discovered a Mettler tombstone. To the right of those stones were older stones and an overgrown area with a tree, yucca plants, and poison ivy.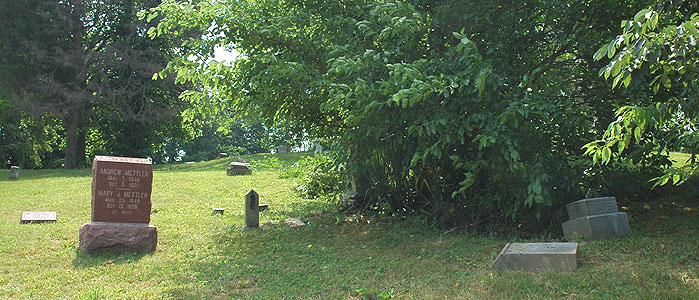 After clearing out a bit of the growth, Francis Mettler's tombstone was located upside down in the dirt. The stone had been broken in half. After cleaning the top half of the stone and applying blue chalk, part of the stone could be read.
"Francis Mettler Died Oct.? 1875 Aged 78 Y" The rest of that side of the stone could not be read. The opposite side of the stone read "Hannah Wife of F. Mettler." A third side of the stone said "Our Parents."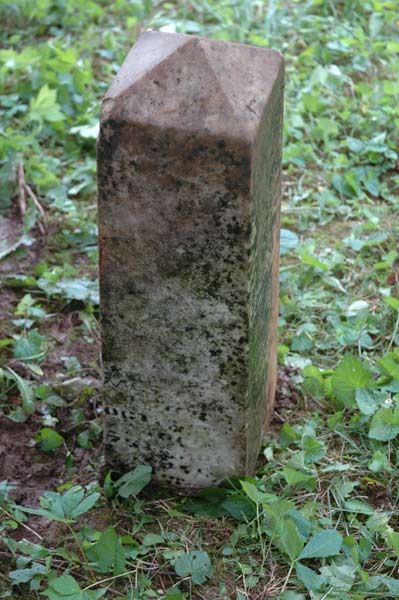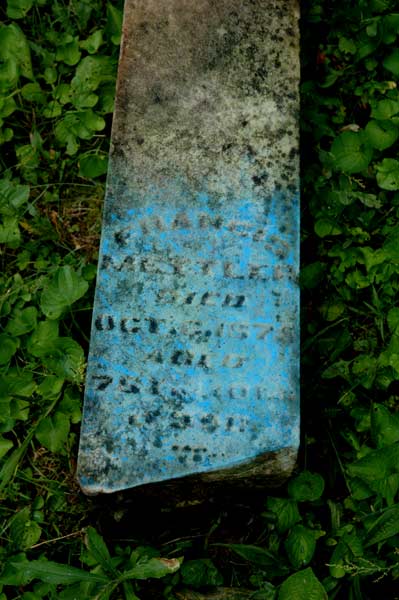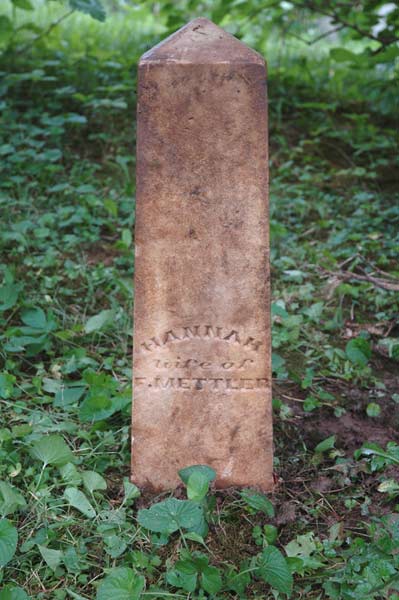 On 2 July 2006 on a return trip to the cemetery, Susan and her husband Jim cleared the cemetery plot.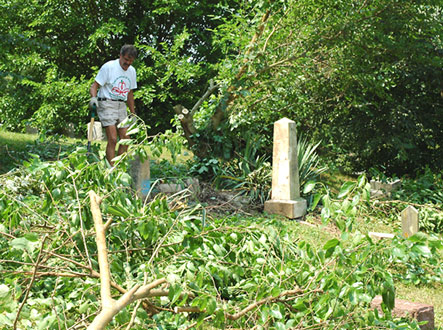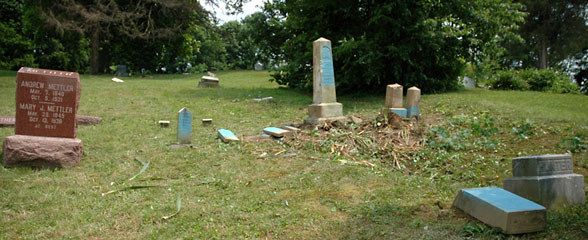 They removed the bottom half of the Francis' stone from the dirt.

"Remember friends as you pass by

As you are now so once was I

As I am now so you will be

Prepare for death and follow me"

A second stone bearing Hannah's name, taller than the first stone for Francis and Hanna, and beside it, states:
HANNAH
METTLER
DIED
DEC. 21, 1895
AGED
92 Y. 2 M. 16 D.
Andrew Mettler was one of Francis and Hannah's sons. To see images of Francis and his wife and pages from their family Bible, click here.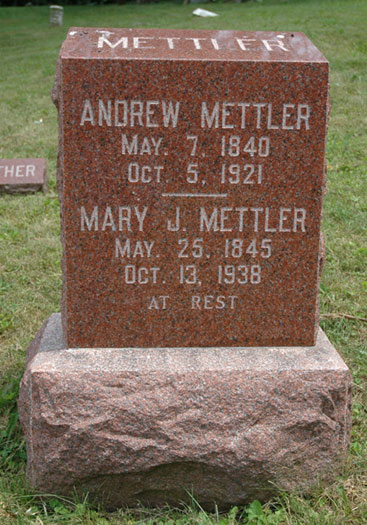 ANDREW METTLER
MAY 7, 1840
OCT. 5 1921
____
MARY J. METTLER
MAY. 25,1845
OCT. 13, 1938
AT REST
Below are the tombstones of grandchildren of Francis and Hannah; Andrew and Mary's children: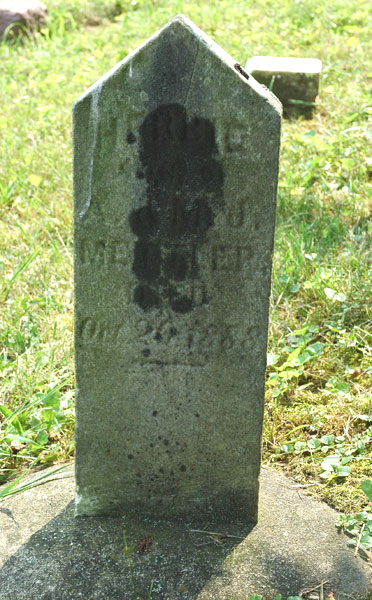 Herbie's stone before and after cleaning and applying chalk.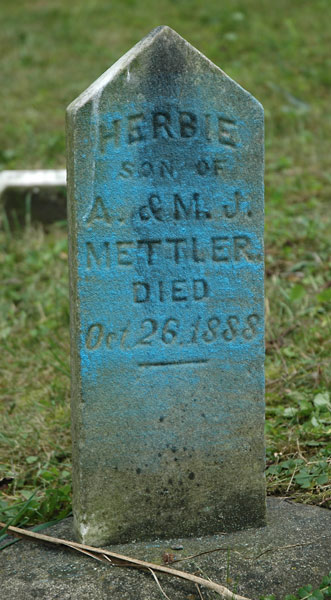 HERBIE
SON OF
A. & M. J.
METTLER.
DIED
Oct 26, 1888
_______
Below: Claud's stone before and after cleaning and applying chalk.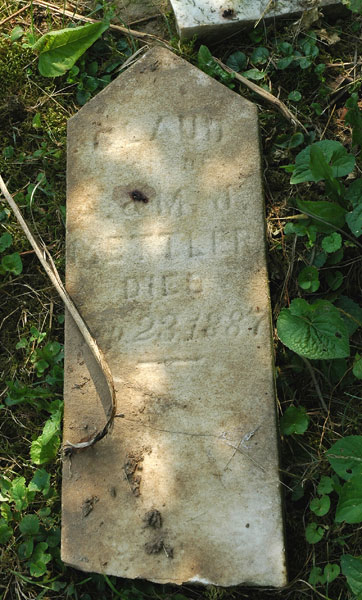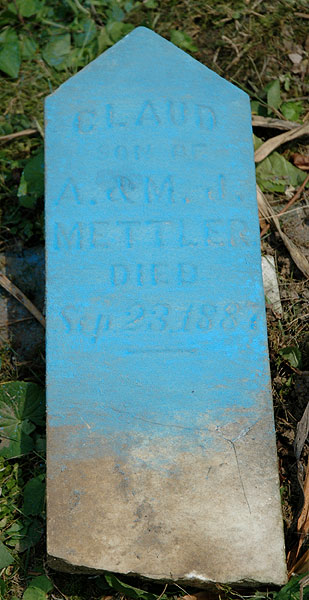 CLAUD
SON OF
A. & M. J.
Mettler.
DIED
Sep 23 1887
_______

EDITH
Dau of
A & M. J.
Mettler
DIED
Jan 27, 1882
Below is the tombstone of Ella M. Mettler. She is presumed to be another child of Andrew and Mary. The stone is broken in half. The base says "Hunter". The top reads "ELLA M. METTLER WIFE OF GEO. E. HUNTER. SEPT. 27, 1866. APR. 14, 1898. Another stone is labeled "E.M.H." and is presumed to be her footstone.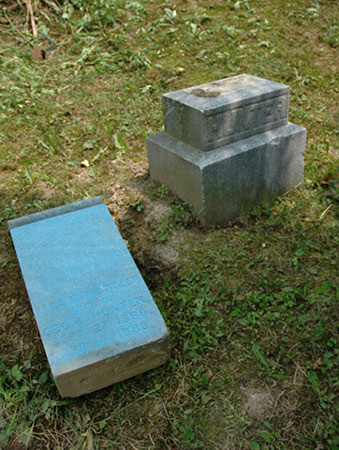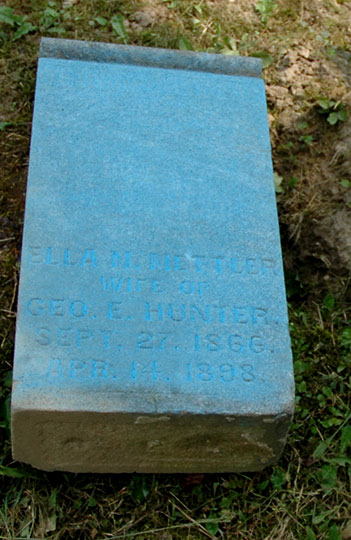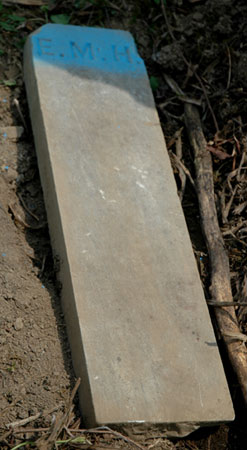 Use this hyperlink for additional information on Belleview Cemetery.