Ecotone
Trail Guide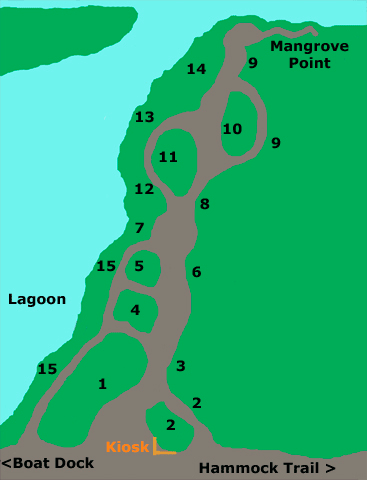 An ecotone is a transition area between two ecosystems. The Ecotone Trail at the Conservancy of Southwest Florida Nature Center is a transition area between a mangrove forest and a hardwood hammock.
There are 15 mini gardens within the Ecotone Trail. The map above shows the location of each. The boardwalk at the end of gardens 14 and 9 leads to Mangrove Point, where you will see black, red, and white mangroves.
Begin your walk at the Ecotone Trail Kiosk.
The gardens provide a variety of plants that attract wildlife, including butterflies.
As you walk through the garden, see how many different plants you can find and imagine how these plants might be used by animals living in this ecotone.
We hope your walk in the garden is both fun and educational as you discover some of the secrets of an ecotone. Please continue to protect our unique natural environment. Join as a member of the Conservancy of Southwest Florida, tell others about us, make a donation or become a volunteer.
This page is linked to a list of plants in each garden and photographs of all plants, butterflies and moths and other animal visitors that are attracted to the gardens.