Class Osteichthyes (Bony Fish) in the Christopher B. Smith Preserve

Class Osteichthyes Characteristics: Osteichthyes is a taxonomic group consisting of over 435 families and 28,000 species. Bony fish are ectothermic (cold blooded), which makes their body temperature dependent on the temperature of the water in which they live. All bony fish have gills that are used for respiration, and an operculum that helps them breath without having to swim. Swim bladders help them maintain neutral buoyancy. They have smooth and overlapping scales, and mucus glands that coat the body.

In the Christopher B. Smith Preserve, two species in Family Poeciliidae have been photographed. Family Poeciliidae is a family of fresh-water fish that give birth to live young.

Interactions in the Smith Preserve: Fish have many important functions in the preserve. They interact with their physical, chemical and biological environment. They are an integral part of the aquatic food web, eating plant life, microscopic organisms, other smaller fish, insects, crustaceans, worms, and amphibians. Fish are eaten by larger fish, birds, reptiles, and mammals.
Heterandria formosa
Least Killifish
Heterandria formosa is one of the smallest fish in the world and is the smallest found in North America. Although its common name is "least killifish," it is not a true killifish. A true killifish lays eggs; a least killifish is a livebearer.

The least killifish is indigenous to South Carolina, Georgia, Florida, and Louisiana, where it lives in vegetation, slow moving or standing freshwater and brackish water.

Fully grown males are about 2 cm long and females are 3 cm long. Both sexes are olive green with a dark horizontal stripe through the center of the body. Both sexes have a dark spot on the dorsal fin. Females have an additional dark spot on their anal fin. The first photograph is of a female, the second is a male.

As labeled in the second photograph, a male's anal fin is modified into a gonopodium, used during mating to introduce sperm into the female.

Fertilized eggs develop inside the female. Upon hatching, offspring are released into the water over a 10 to 14 day period.

Least killifish eat worms, crustaceans, and plants.
Gambusia holbrooki
Eastern Mosquitofish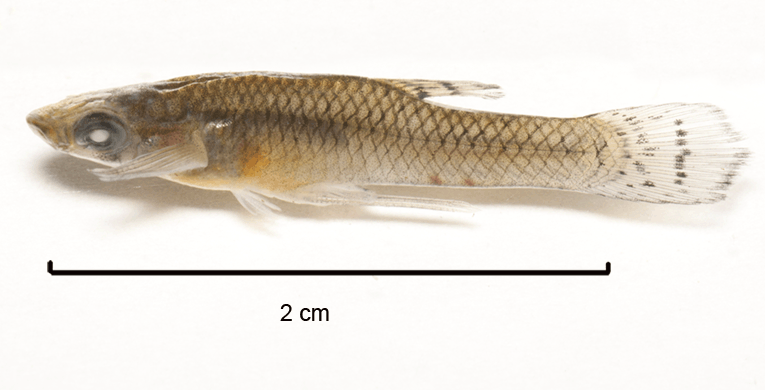 The genus name Gambusia is derived from the Cuban Spanish term "gambusino," meaning "useless."

There are 45 species of Gambusia native to the United States. Of these, two are very widespread, the western mosquitofish (Gambusia affinis) and the eastern mosquitofish (Gambusia holbrooki).

G. affinis are native from the Mississippi River watershed west to California. G. holbrooki are native east of the Mississippi River drainage system and south to Florida. Confusion occurs because both species have been introduced to new locations as a means of controlling mosquitoes. With all things considered, the species in the Christopher B. Smith pond is likely G. holbrooki.

Adult females are 2.5 cm long, Adult males (shown in these photographs) are about 2 cm long. As shown, males have a prominent gonopodium used for internal fertilization. The male secretes milt directly into the genital aperture of the female through his gonopodium.

Eastern mosquitofish are hardy, very adaptable, and highly reproductive. Over her three-year life, a female can produce several thousand offspring.

Gambusia spp. are extremely aggressive predators of mosquitoes, other aquatic insects (beetles, dragonflies and damselflies), other invertebrates (zooplankton and shrimp), and small fish and amphibians (frogs).
© Photographs and text by Susan Leach Snyder (Conservancy of Southwest Florida Volunteer), unless otherwise credited above.
Return to Christopher B. Smith Preserve