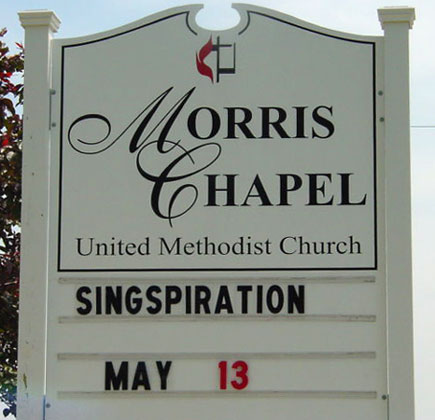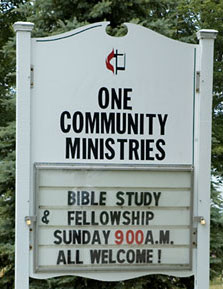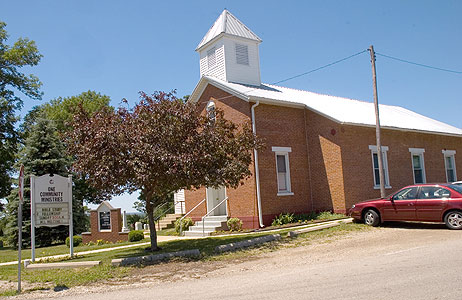 Directions for finding this Pickaway County Cemetery in Thatcher, Ohio:

Drive South from Columbus on I-71 to 270 S to Rt. 23. Take Rt. 23 toward Circleville. At Tarlton Rd, turn left. The church is on the left at the corner of Morris Salem Rd. and Tarlton Rd. (On June 9, 2007, Susan Snyder #2 discovered that the name of the Morris Chapel United Methodist Church had been changed to One Community Ministries.)
Buried there are John Thatcher (#21) and Levina Mettler (#22) . GPS 39° 33.858' N, 82° 53.501' W.
The stone is shaped like a tree with the top cut off. This type of monument is called a "treestone" and it represents a chopped off family tree or perhaps that life has been cut off. (This type of tombstone was popular during the Victorian Age and could be purchased through a Sear's catalogue). In this monument, the severed tree is resting on a base that looks like stacked rocks. There are fern leaves carved into the base of the tree. Fern at the stone's base illustrates humility and sincerity.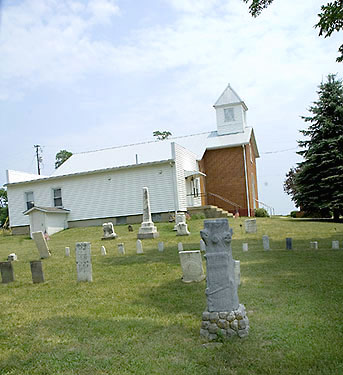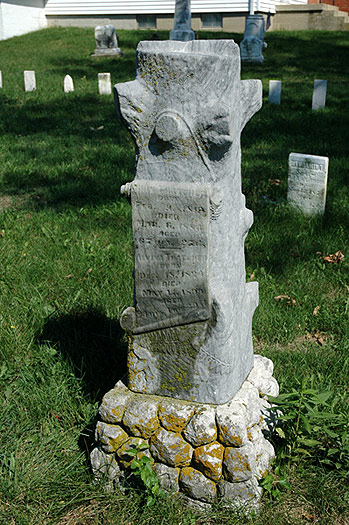 "JOHN THATCHER
BORN
FEB. 9, 1819
DIED
MAR. 6, 1886
AGED
67 yrs, 27ds
---

ALVINA THATCHER
BORN
DEC. 18, 1824
DIED
MAY 17, 1899
74 yrs. 4 ms 29 ds"
Use this hyperlink for additional information on Morris Chapel United Methodist Church Cemetery
---
Contact person for this website is Susan Snyder: susanleachsnyder@gmail.com